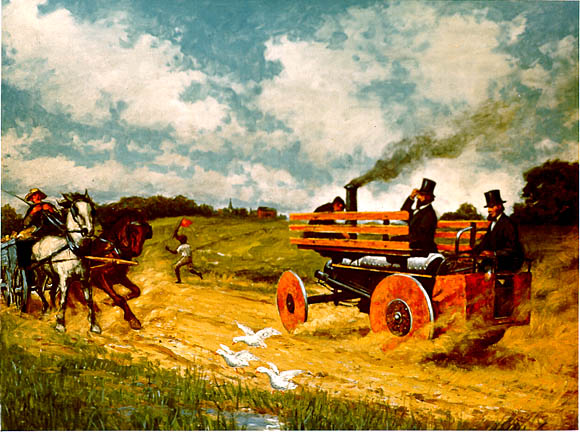 Richard Dudgeon invented the hydraulic jack. The company was founded in New York City in 1849 as a custom machine shop. The company's success was assured in 1851 when Dudgeon was granted a patent for a "portable hydraulic press" - a hydraulic jack which proved to be vastly superior to the screw jacks in use at the time. Other ingenious, practical devices, advancing the art and science of many of America's industries, continued to pour out of Dudgeon's shop. Among them were pumps of all shapes and sizes, roller boiler tube expanders, pulling jacks, filter press jacks, steam forging hammers, hydraulic elevators, railroad car lifting equipment, heavy plate hydraulic hole punches, steam powered street carriages (see below) and a vast array of unique hydraulic systems, including a steam-powered airplane. Richard Dudgeon was the Thomas Edison of the hydraulic industry.
Richard Dudgeon's Steam-powered street carriage is on display in the Smithsonian Museum in Washington, DC. Painting by Carl Rakeman.
Richard Dudgeon's contribution to innovation was recognized by the United States Postal Service via a 4 cent postage stamp.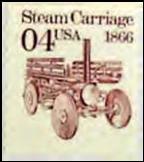 Richard Dudgeon, Incorporated • 24 Swift Place • Waterbury, CT 06710